For convenient access and management of all Premium Seating tickets.

Need to order food and beverages for your Private Suite? Use e-Levy, an easy to navigate online ordering system. Place orders conveniently from your home or office.

StubHub, the Official Fan to Fan Ticket Marketplace of STAPLES Center. StubHub is the easiest place to sell your extra tickets. You'll reach millions of buyers and list tickets at any price, StubHub handles customer service, and get paid when your tickets sell.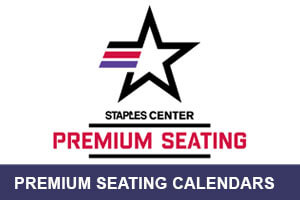 Download a monthly calendar for all of the events at STAPLES Center and Nokia Theatre at LA Live.

STAPLES Center is proud to introduce a new and unique experience with the Premier Lounges and Tables at San Manuel Club.


An intimate private club and a retreat from the busy arena accessible to members only.

Contact A Premium Seating Services Manager

STAPLES Center seating maps.

Got a quick question? Chat with us in an easy, convenient way. Live Chat is now available.

The Premium Services Department is dedicated to exceeding the needs of all STAPLES Center Premium Seating Members. If you are a Private Suite Owner, Premier Seat Holder, or Premier Table/Lounge Holder at San Manuel Club, please use this section to refer to event calendars, your online account benefits, suite catering information, and more.
Premium Seating Hotline: 213-742-7480
For immediate assistance during an event please call our Premium Seating Hotline at 213-742-7480. The dedicated Manager on Duty is here to quickly reply to any questions or issues that may arise. You can also "tweet" at us
@STAPLESPremier.
Chat With Us Live
Monday-Friday: 9:00 AM - 5:00 PM